After arriving in Duluth in September last year, I immediately immersed myself in the creative culture here. I volunteered wherever possible: at church basement smörgåsbords, in a gingerbread city at the local Nordic cultural center, at the annual All Souls parade. I helped kids make Christmas ornaments in nearby Knife River, pitched in at cider-pressings and putting gardens to bed at a local public orchard, all along the way meeting artists, craftspeople, permaculturalists, musicians, and civic leaders because art is not, or should not be confined to isolated studios and haughty venues. The art I practice is embedded everywhere, and is a means to build tables, not walls. The experiences we have in making, together, whether we consider ourselves artists or not (and c'mon- who isn't?) are always for me more eminent than the "things" made.
This  working from the ground, up seems consistent with the mission of Common Ground Outreach- to let others know they're not alone, neither in their sorrows or their joys; that while experiences aren't quantifiably marketable, social capital and belonging are of far greater value. I curate a weekly photo feature on a regional website called Perfect Duluth Day that deemphasizes the region's natural assets to foreground the real people who live, work, and play here. "Selective Focus" as it's called has been lauded widely for its novel approach to online community building. I've written articles that call attention to deserving artists here on widely read platforms. I've been welcomed here, by City Council members and barkeeps, by museum directors and buskers. This warmth spurs me to give back wherever I can. I was asked just week to sit in on a gallery panel discussing a coming exhibition devoted to the St. Louis River watershed. I stressed a need to return agency to viewers by way of an interactive map for people to append upon it people's own meanings of the river. I shared the contacts I've made of others engaged in art as social practice, and learned of granting structures, media personalities, and other resources that could see our group's intentions through- widening the circle. The next day I was asked to speak to a stakeholders tour of prospective new spaces for the Duluth Art Institute; to provide an artist's view of possibilities for audience engagement.
At the moment I'm proudest though of my first book, funded by the Arrowhead Regional Arts Council and the McKnight Foundation., which went to print yesterday. This began as a vanity project pairing my photographs with the work of a local poet. I broadened its scope to include songwriters, prose artists, and writers of all stripes. Our cooperative book has contributions from current and former poet laureates, famed musicians- voices from a wide range of experiences. It's now a gift to the place that has given me a great measure of solace, and while the road isn't easy and barely-well marked, I did right to uproot. Minneapolis had ceded too much of its authentic fringe to corporate interests, believing a higher tax base to be the path to prosperity. I believe, as CGO does, that healthy communities place worth in bettering the lives of the least of their brothers and sisters, or as Paul Wellstone said, "we all do better when we all do better." Pictured below are myself, Annie Dugan- director of the Duluth Art Institute (while hosting a film festival this past Summer in her CSA's barn), and the artist/educator Sean Connaughty, who's doing his damnedest to de-pollute Lake Hiawatha. The second image is from a recent bonfire at my house, plotting a Spring 2016 exhibition- a gallery without walls- in Duluth's community gardens (we have 32). I invite you to visit, to see what a mutually supportive place I've found in this new home, and to stay tuned for more.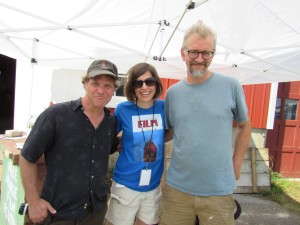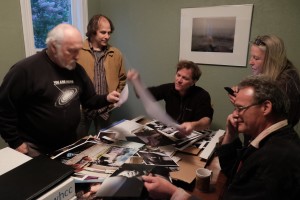 (photo credit: K. Praslowicz, http://www.kpraslowicz.com)